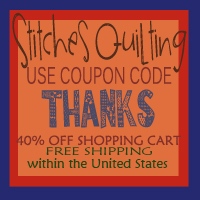 We would like to thank you for the many fantastic years with a 40% off Storewide Thank YOU Sale at Stitches Quilting Online Store!  This is for all items in your shopping cart and also includes FREE shipping within the United States.  If you are an international customer, the shipping rate would be a flat rate of $19.95 per order.  Load up your shopping cart with unlimited fabric in stock, notions, books, patterns and MORE!
We have remodeled, shampooed the carpets and please save me from moving more fabric!  We moved the long arm, sewing machines, cabinets, shelving, furniture and more!  I just don't want to have to keep moving things… please buy as much as you can!
I want to get the displays up and new materials planned for blog posts without having to keep moving inventory!  My body is aching from all the work we have done so far and I want to get back to the creative energy to give to all of YOU! This is our "thank" you before Black Friday!
I am only 15 minutes from the Riley Blake Warehouse in Salt Lake City, Utah so if there is something you are in need of just email me at deanna@stitchesquilting.com or call me at (801)918-8792