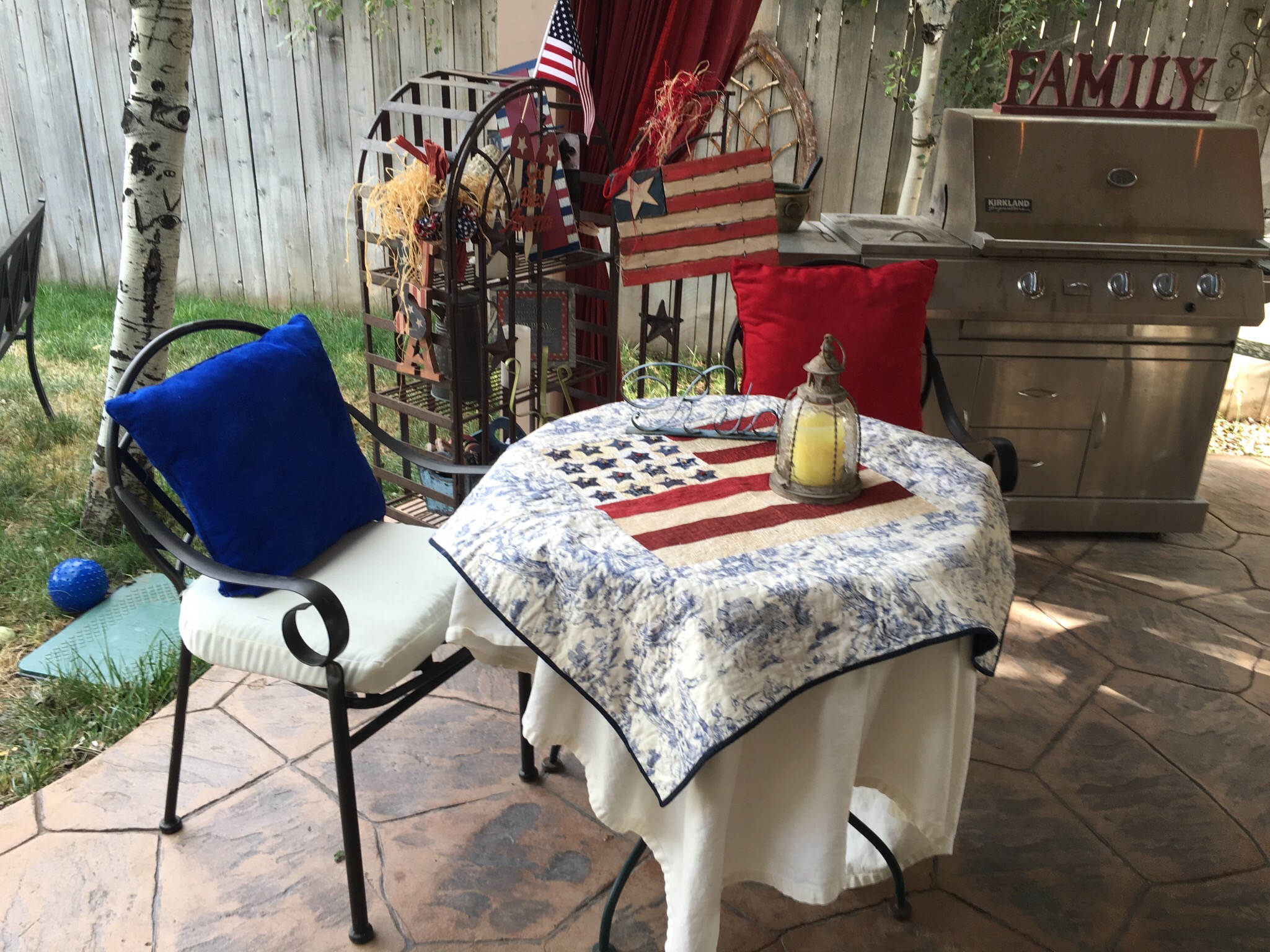 How do you use Americana Quilts in your home decor?  I love to use my Patriotic Quilts to hang on the wall and to display United States Flag outside to wave.  This year I decided to decorate our patio for lots of family and friends for BBQ celebrations.  I laid my Toile American Flag quilt on the table to set a tone with red and blue accent pillows.  You will notice the rod iron shelf that I arranged lots of patriotic items I have created through the years.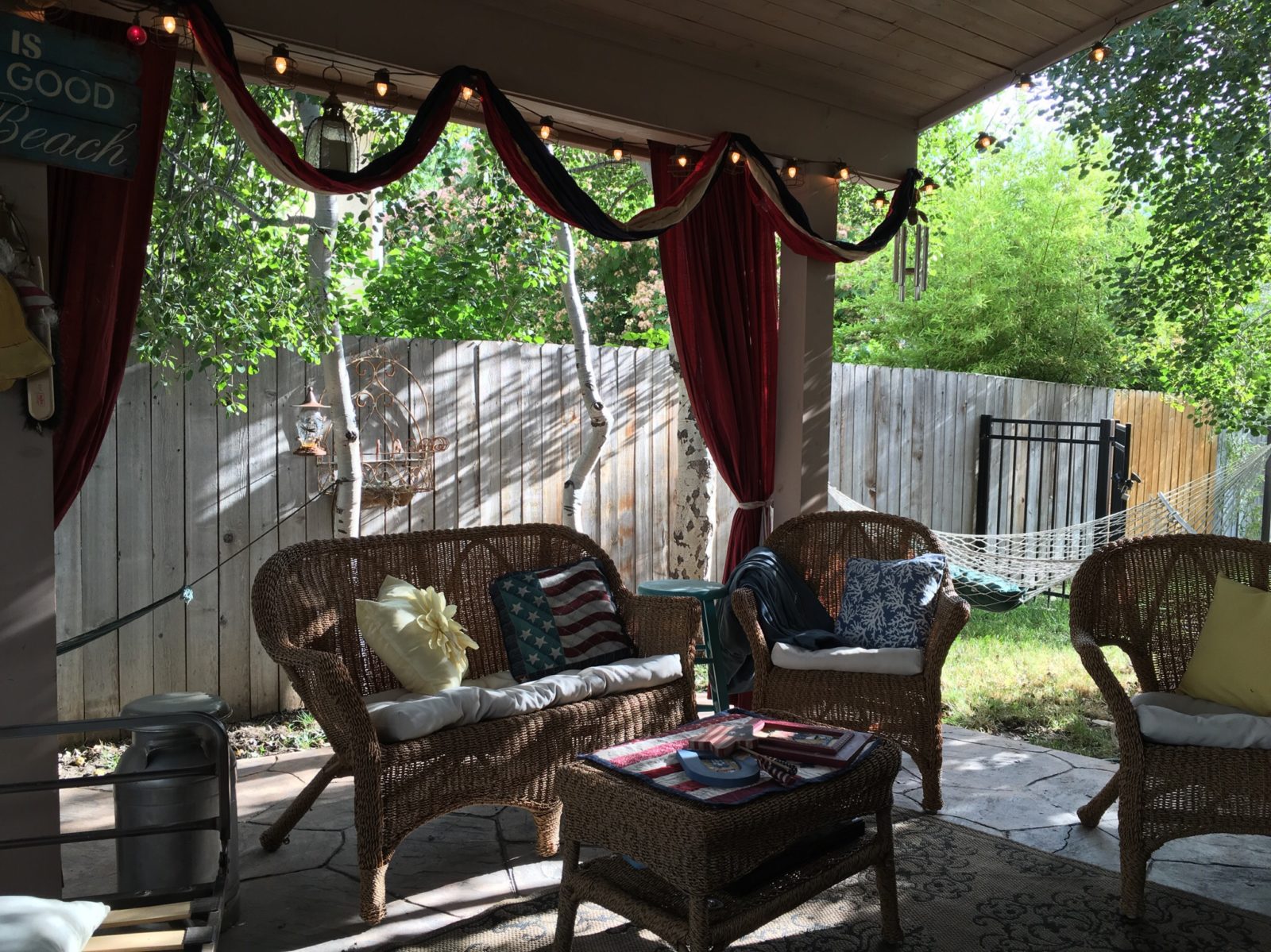 Our patio is covered and we have lights lining the roof along with Moda Americana Red White and Cream draping fabric in scallops with the lights.  This fabric is absolutely beautiful and a great way to drape along a stair banister too!  The ideas are endless with this fabric on sale now at Stitches Quilting.  This fabric is out of print with 20 yards left in stock.  Pick up your bunting fabric now here.
You can see a close up of this fabric and how it is not printed striped fabric but rather the navy blue, red and cream fabrics are stitched together in 10 yard long lengths.  Isn't it amazing what you can do with quality fabrics to adorn your home.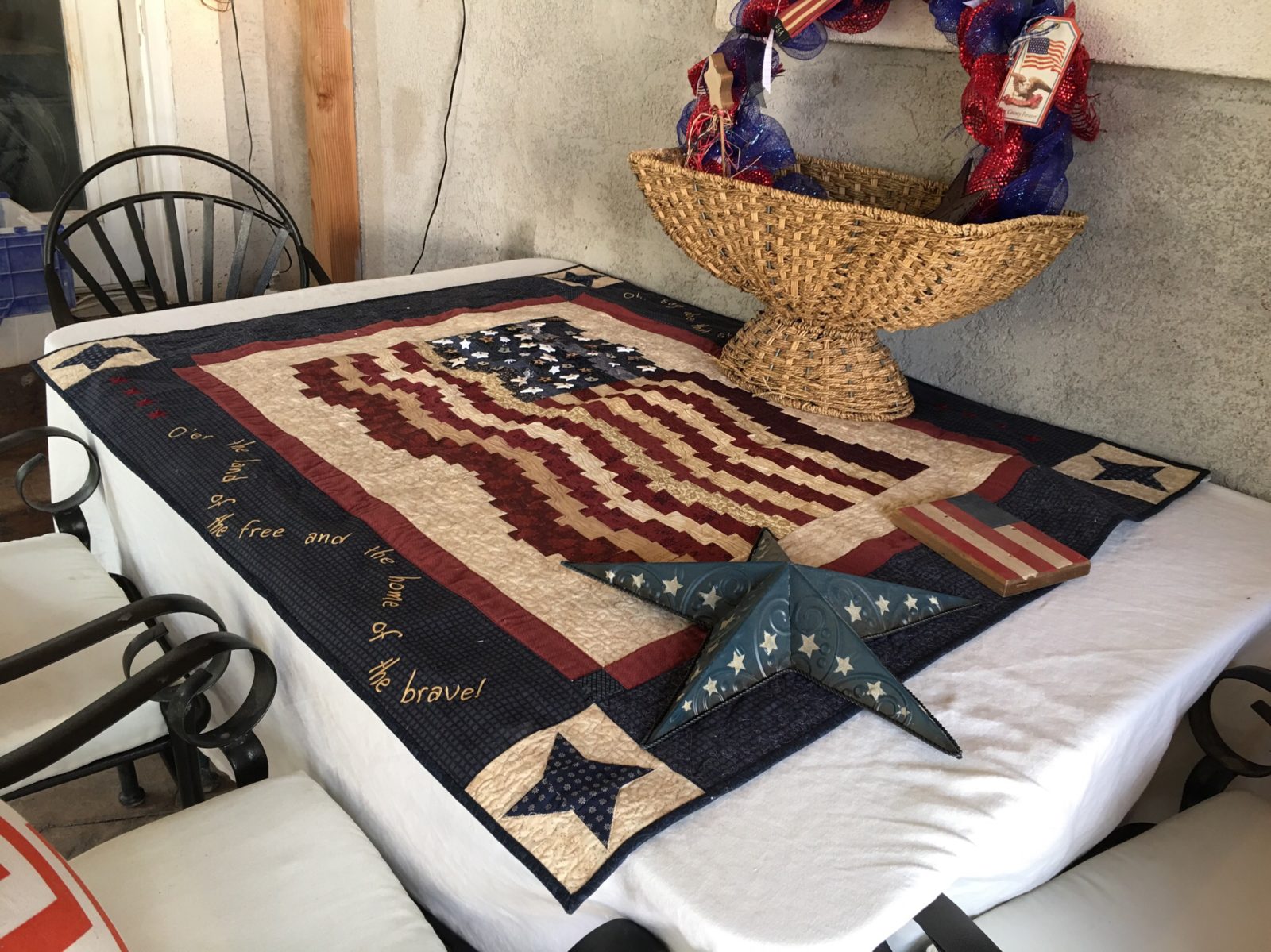 Here is another table that I place the Bargello Waving American Flag Quilt to set the tone for what we are celebrating.  I used a large basket with a Patriotic Wreath in it.  I love the touches of metal and wood with the fabric.  Family and friends have enjoyed time on our covered patio talking about the state of affairs and how we need to be responsible citizens in whatever country we live.  You can see embroidered on this quilt, "O'er the land of the free and the home of the brave."  To get the very last Bargello Glory Waving American Flag Quilt Kit click here.
You can see a close up of this wreath with a metal frame purchased from a craft store.  Just use mesh wide ribbon that is so easy to find nowadays and weave it through the metal wreath.  I love the touch of wooden vintage patriotic signs to add to the wreath along with rod iron stars.
I don't know about you but I find Needle Punch Embroidery relaxing to do.  I love these two patriotic needle punch framed embroideries of a flag flying above a home and Good Ole Sam.  Isn't the wooden star with the flag coming out of it great.  I love this simple small American Flag quilt on this outdoor coffe table that has the Star Spangled Banner hand embroidered into the cream strips of the flag.  What have you made with fabric and thread to celebrate your nation?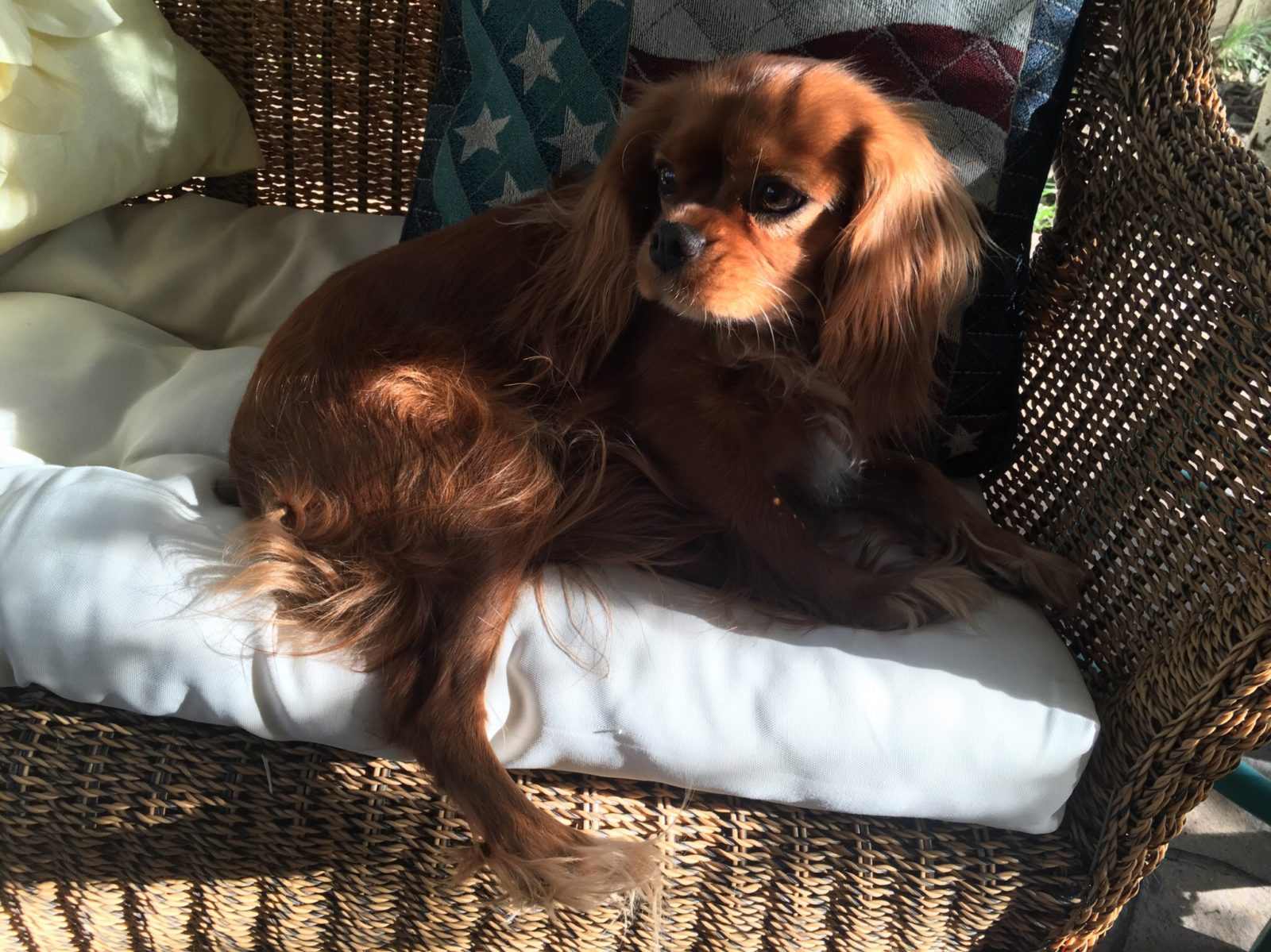 Even our Cavalier King Charles Spaniel loves the patio and the comforts it brings.  Who do you use your quilting and sewing items to celebrate your nation?  Today is September 11th and a day that brings reverence for our country and the people that have sacrificed so much.
I love this picnic blanket that has fabric to celebrate 9/11 in it.  I roll this blanket up and keep it in my car when we need a quilt on the go.
At Stitches Quilting we have the Americana Quilt Kits available with fabric designed by Carrie Quinn with Penny Rose Fabrics.  These quilt kits are limited in quantity and listed at a great sale price.  
The Americana Quilt Kit comes with all these fabrics and the pattern.  Isn't is beautiful!  Are you making Quilts of Valor or just need a quilt in your home to celebrate the holidays?
There are so many great books to read to your children or grandchildren to teach them history.  I love reading to my kids snuggled up in a great patriotic quilt.  Not only are there great books to read to your grandchildren but there are great book for us or snuggle up in a quilt to watch a movie.  To learn more about reading to child wrapped in a quilt of love and increase literacy with additional quilt ideas and great books to read click here.  
To learn more about these patriotic quilts click here.
May our flags wave tall and bright on days like today to honor those that make our nation strong.
How do you decorate to celebrate your patriotism?  Do you enjoy snuggling in patriotic quilts or happen to hang them on your walls?
All My Best!