Bunting Banner Tutorial
This holiday bunting banner tutorial is simple to make, cut by hand or with a Cricut machine!  Free pattern and tutorial available with SVG cutting files.
Here is what this Valentine Bunting Banner looks like when in Cricut's Design Space ready to cut on the Cricut.  I used the Cricut Maker to cut the fabric used in this Valentine Bunting Banner.  Below is listed all of the supplies that I used and where they are available for sale in Stitches Quilting online store.  Remember Cricut's Design Space is free to use on your computer or as an APP on your portable handheld devices.  Make a free Cricut account at www.cricut.com and click on the upper right hand corner to access Cricut Design Space.
Click here for a direct link to Cricut Design Space LOVE Valentine Bunting Banner Cricut SVG file. All images in the cut designs are free except the font used is from a Cricut Access Membership.  If you plan to cut the bunting out by hand with scissors or a rotary cutter download the full instructions and cut files here.
Cut the Riley Blake Lost and Found Fabric in 12 inch strips or 12 inch square to get the fabric ready to place on the Cricut FabricGrip Cutting Mat.  The sample was made with 3 different fabrics; of course you can customize your bunting to be any color combination!   The letters were cut with Osnaberg Roclon Natural Fabric that has a bit of texture.  Of course you could cut this entire project out of any substrate even felt or paper!  Let your imagination crawl with the possibilities.  What ideas do you have?
After cutting the fabric on the Cricut Maker the six bunting pieces will look like this.  Examine the clean precise cuts!
Cut 7.5 inch length of 3.5 inch wide Jute Webbing for each bunting needed on your banner.  The Valentine Love Bunting Banner above needs six 7.5 inch strips cut.  After cutting the strips to length mirror the triangular cut on the fabric so it is consistent with the Jute Webbing.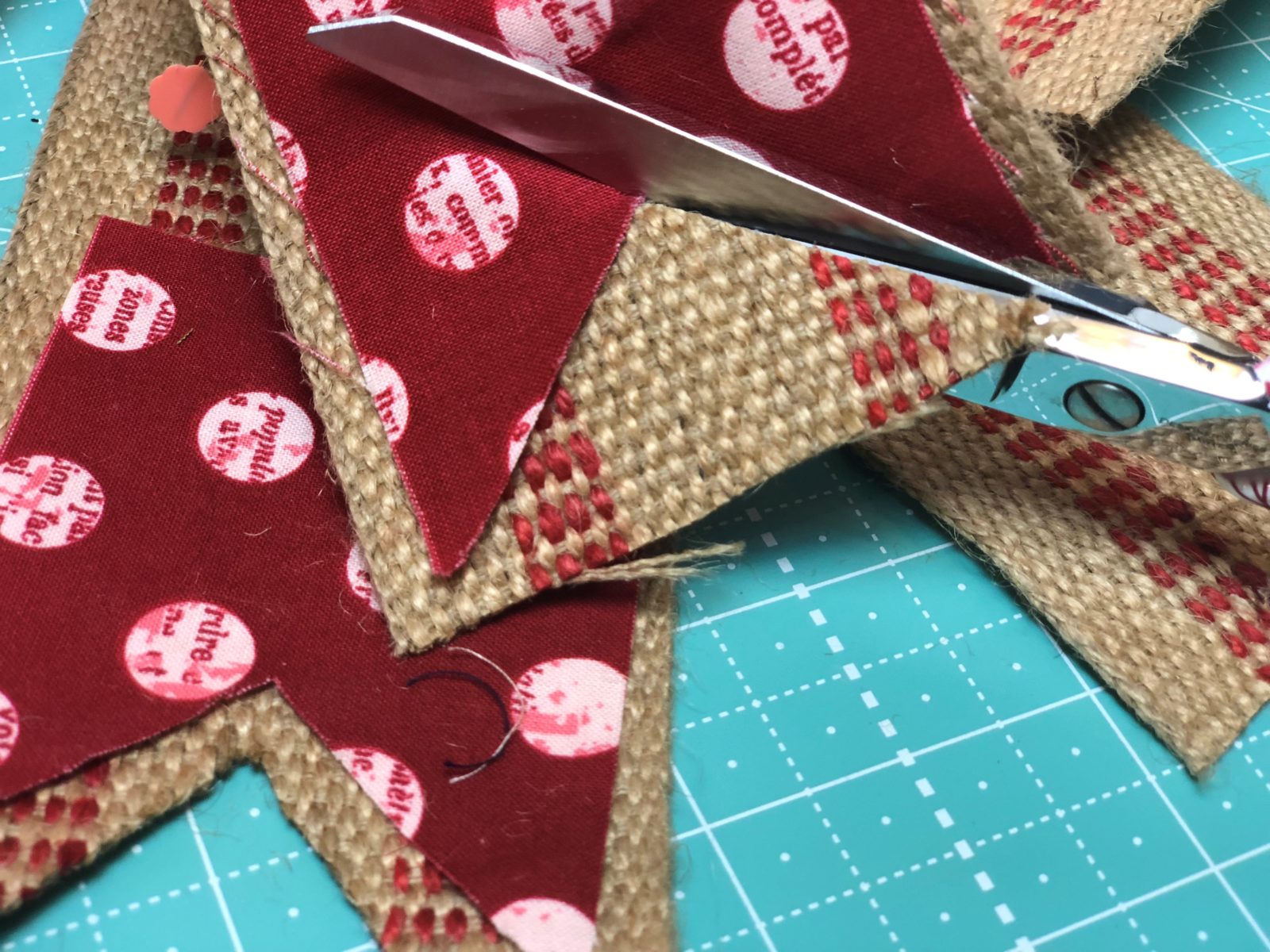 Iron on the L-O-V-E letters and heart to the fabric with the Cricut Easy Press. Of course you can use any word expression other than "love" for your Valentine Bunting.  Personalize it and make it yours.
Layer the fabric bunt over the 3.5 inch jute webbing and secure with stitching or hot glue.  I actually sewed the fabric to the top of the jute webbing.
To assemble the bunting, I used 2 yards of a wired fabric ribbon. Find the center point of the ribbon and start arranging each bunting 2 inches apart. The bunting could be sewn to the ribbon or hot glued. This could be a sewing or no sew project of course!
Bunting Banner Supplies Needed:
2 yards of ribbon
1.5 yards – 3.5 inch Red Jute Webbing at Stitches Quilting Online Store
Half a yard each – Riley Blake My Minds Eye Lost and Fabric Fabric at Stitches Quilting Online Store
 Half a yard – Roclon Osnaberg Natural Fabric at Stitches Quilting Online Store
Please share what you have made with this Fabric Bunting Tutorial in our Cricut Maker Quilt and Sew Facebook Group.  If you are not already a member, its is completely FREE.  We would love to have you join us!  Let's inspire each other and create together.   Comment below with ideas or questions you might have, we are here to help.
To make sure you don't miss out on any other tutorials, be sure to subscribe to the Stitches Quilting Newsletter and let's get social on Facebook or Instagram! Can't wait to see you soon!
Wishing you lots of love!  XOXO, Deanna