The Cozy Christmas Candy Cane Block is an appliqué of only two pieces!  This is a simple block but looks incredible!
If you haven't started, it's never too late, you can download the Cozy Christmas Sew Along Free Quilt Pattern just click here or on the image below.  We have 3 – Cozy Christmas Fat Quarter Bundles in inventory at Stitches Quilting that are on sale for an unbelievable price….
For this block, you only need to use the Cozy Christmas Sew Simple Shape B-16.  You can see I've laid out my darling Gingher Embroidery Scissors!  I sure love using these.  I have organized all my needed supplies in the Cozy Tins.   I also have appreciated stitching everything together with the White Aurifil Thread.  I find the Clover Point to Point Turner tool extremely helpful making these appliqué shapes.
It is very important to trace the B-16 Candy Cane template on the Pellon Sew In Interfacing once right side up and the other one upside down. Cut out the shapes and align them with your fabric of choice.  I decided to use Tasha Noel's Pixie Noel with Riley Blake Designs for my quilt combined with Riley Blake Basic Fabrics.  With the Candy Canes, I used a stripe that is offset on the diagonal.
Important TIP:  After stitching the interfacing to fabric but before turning it inside out, be sure to snipe with a small pair of scissors around the curved edges of the candy canes.  This will give you a nice smooth edge to the candy canes.   This an example of where I would snip the fabric to get nicely turned edges.  Press after turning inside out.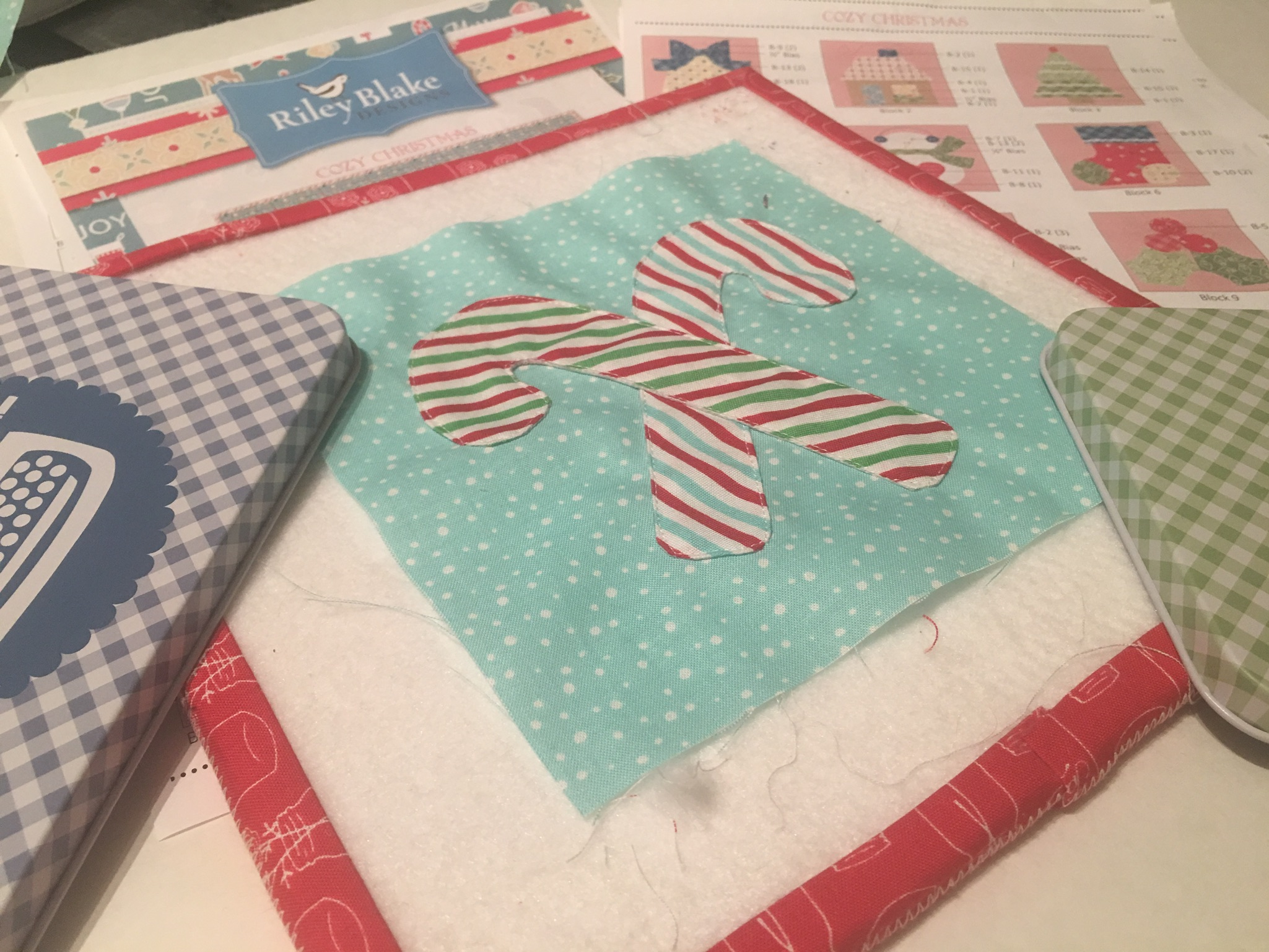 I stitched the candy canes with the Pellon interfacing using just white thread.  I also used the white thread to attach the candy canes with the stripes to the 7 inch block of Aqua Snow background fabric after pinning in place with the tiny embroidery pins.  Here is my block with the candy canes stitched on.  I have printed out the Lori Holt pattern and refer to it for instructions.
Now I am sewing on my White on White Riley Blake Basic print sashing fabric, starting with the left and right at 6.5 inch strips then top and bottom with 8.5 inch strips.  Press nicely and then square up the block.
I'm now laying out my accenting blocks to frame these candy canes.  I'm using the 18 inch design board to help me keep everything in place.  There is one half square triangle that I need to turn, can you find it!  My sweet puppy Diego is chilling next to my design board and I think he approves.  🙂  Piece together your block combinations.
I always sew on the left and right sides before sewing on the top and bottom.
The picture above is an informal way to show you how I make my points match up. Where the stitch lines all come together is where you are going to stitch across with your 1/4 inch seam.
Here is the finished block!  Just love it!  I can't believe we only have two more blocks to go!  I'm starting to sash mine together.  I'll write another blog post about that!
Let me know if you have any questions!  I'd be more than willing to do a tutorial on anything!
Best Wishes for lots of Happy Stitches,