Cozy Christmas Stocking Block Sew Along
I loved making this Cozy Christmas Stocking Block Sew Along – this is block 6 of 12 and we are half way through the Sew Along!  I actually started it in Utah, worked on it in Chicago and then made the finishing touches back in Utah.  This Stocking Block got to travel this last week.
You might notice thar I changed my inner border to be a White on White Riley Blake Basic Fabric instead of the Red and White Swiss Dot.  What do you think?  I was originally thinking the red and white swiss dot was so strong and distracting from the block itself.  I need your advice do you like the white washing or the red and white swiss dot as the sashing?  Please comment below….  Here is a picture of the Cozy Christmas Wreath Block to compare.
Okay let's dive into making the Cozy Christmas Stocking Block.  This block went fast for me.  You will need to pull your Cozy Christmas Templates B-4, B-7, B-10 and B-17 to create the Cozy Stocking Block.  I had an idea of what fabrics I was using so I put the Happy Color Thread colors in my Blue Cute Lori Tin.  Of course you can't forget the white Aurifil Thread or the Clover Point to Point Turner.  I'm also using the 10 and 18 inch design boards for the laying out my block pieces.  You might as well attach now your open toed sewing machine foot.  I got out my appliqué pins to hold the pieces in place while I appliqué my blocks together.
In a handy location, I have my Omnigrid 6 x 24 inch ruler, Omnigrid 6.5 x 6.5 square ruler, Olfa locking Rotary Cutter and my large Cute Cuts Rotary Mat by Lori Holt.
Get your Pellon Interfacing ready to trace your simple shapes.  I also pulled the fabrics that I am going to use for this block.  Everyone else is using Lori Holt Cozy Christmas Fabrics, but I am using Tasha Noel's Pixie Noel fabrics.  I decided to pull colors that are similar to the colors Lori Holt has in her sample block.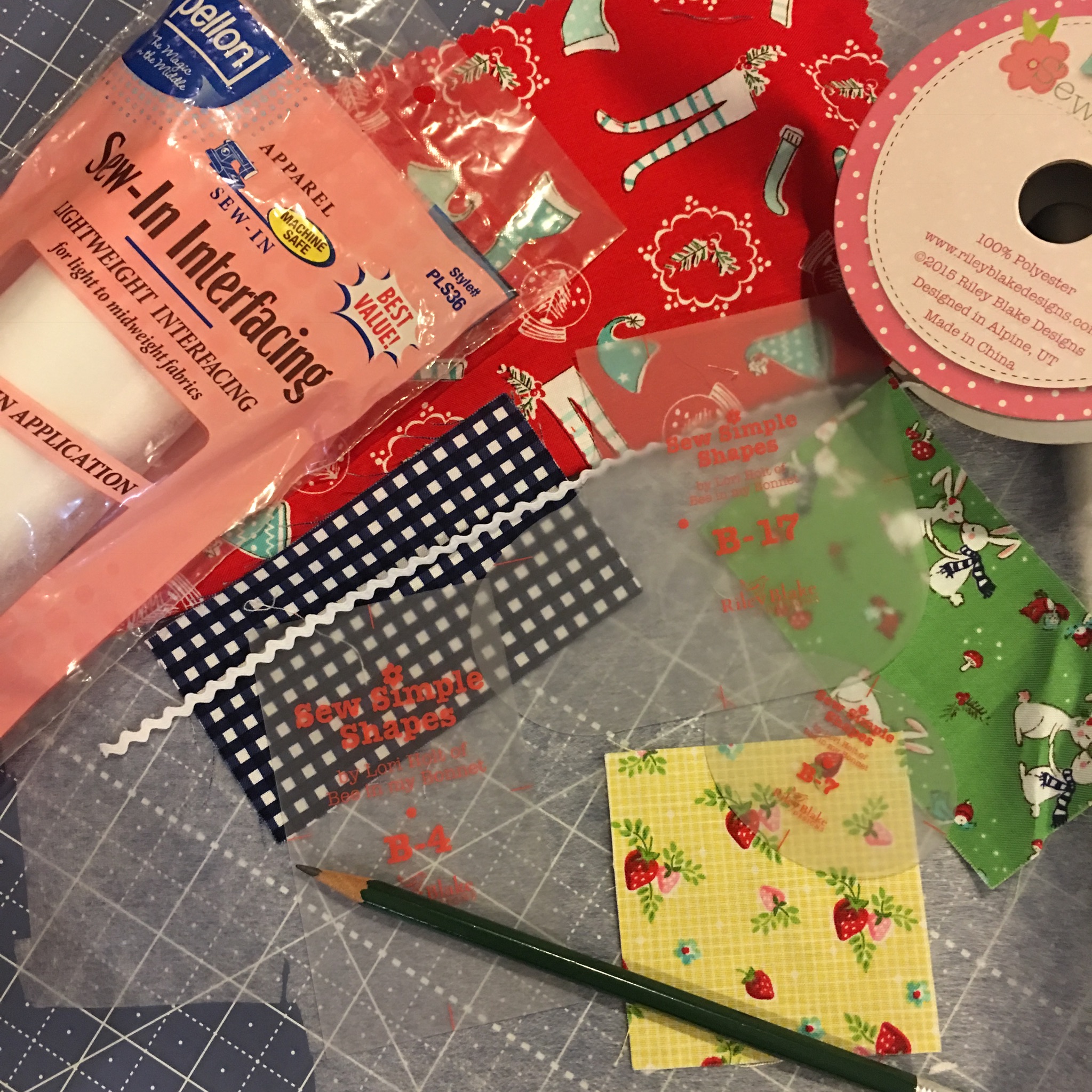 Do you think a pencil or pen is better for tracing your Cozy Christmas Sew Simple Shapes to the Pellon Sew-In Interfacing?  I just lightly use the pencil.  Any thoughts, I would love your input?  Now I'm carefully laying out the B-3 Cozy Christmas Simple Shape on the Navy Gingham positioned on point with the pattern.  I thought this might make my gingham a little more interesting than just the straight up and down gingham pattern.
Let's lay the small piece of mini white ric rac exactly where we want it on the fabric before we stitch this together.  Here is a video to demonstrate how to do this with Appli-Glue by Jillily Studio to help keep things into place.  After stitching together, I then used the Clover Point to Point Turner Tool.
The rest of the pieces are easier since you do not have any ric rac embellishments to add before stitching.  I was sewing this block together in Chicago while attending SewPro Covention.  I carried my sewing machine all the way to Chicago as a carry on lifting it into the airplane overhead compartments.  There was two small items that I didn't bring with me and had to improvise.  You can see what I forgot in the next short video and how I made it work.  If you watch the video to the end you will get to see me load my sewing machine in the airplane overhead bins!  So glad I didn't hit anyone in the head with the sewing machine – it was heavy!
Stitch the four stocking pieces are in place on the background block.  In this tutorial, I am using the Aqua Snow Fabric from the Pixie Noel fabric collection by Tasha Noel.  Pin or glue your pieces in place making sure you have a 3/4 of an inch around the circumference of the block.  Work on stitching your pieces in place whether you are hand or machine appliquing your block.  After completing the stitching, it is time to trim your block to become a 6.5 inch finished block.
I use an Omigrid 6.5 inch square ruler to trim my Cozy Christmas Stocking Block.  Lori Holt was smart to tell us all to make our background squares a bit bigger because cotton certainly stretches as we sew on it.  I love using the 6.5 inch square ruler to see through the grid lines to see exactly how I want my block to look.  I like to use my ergonomic Olfa locking cutter to trim.  Today I actually had to replace my blade because it got taken going through security… my bad.  I talked them into letting me keep the Olfa Rotary Cutter but they did unscrew it to take the blade off.  Phew… Has this happened to anyone else other than me?
Here is my block all trimmed to the perfect 6.5 inch square size; you can see the tiny amounts trimmed off from the Aqua Blue Snow Background.  Now it's time to add the sashing blocks.  Remember I'm experiementing with a white on white Riley Blake Basic Fabric instead of using the Red and White Swiss Dot Riley Blake Basic for the sashing.  You have to let me know what you think.  We sew on the left and right sashing first then press and sew on the top and bottom sashing.
It's important to always press and square up your block after each stage of piecing.  You can see here I am trimming with the Omnigrid 6 x 24 inch ruler the edges of the white sashing strips added.  It's tempting to skip this step but it makes your block perfectly flat and great to put together with all the other blocks when constructing your quilt.
I added the pieced border after laying out the pieces on the 18 inch design board.  I got everything positioned right and then squared up the block using once again the 12.5 inch square ruler that Lori Holt recommends.  It is amazing how having the right tools makes life sometimes easier.  Sometimes not but sometimes yes.  What do you think?  Having a lot of excess tools can be a lot of clutter too.  Here is my finished block.
If you are interested we have three final Cozy Christmas Fat Quarter Bundles in stock.  I have not been using the Cozy Christmas Fabric in my Cozy Christmas Quilt.  I have been using the Tasha Noel Pixie Noel Fabric Collection combined with Riley Blake Basic Fabrics.
I can't wait to see all your Cozy Christmas blocks on social media.  Be sure to follow me and I will follow you back to see your great blocks.  Always you the hashtag #cozychristmas #cozychristmassewalong and for this block #cozystockingblock .  I can wait to adore your blocks too!  It's fun to search the blocks on Instagram because some people are using Cozy Christmas fabric, some people are using their scraps and some people are using different collections.
Let me know what you think about my travels, new sashing color, tools or too many tools, tips and tricks.
Happy Stitches,
Deanna