What do you think of the Cozy Christmas Wreath Block hanging in front of my ironing boards? It's just vintage Christmas beauty for the holidays!
You can see I am using my Corningware Pyrex dishes to help me sort out the different sized blocks to use.  Have you used your Corningware dishes in your sewing studio?
The Cozy Christmas Wreath Block is fun to make and not difficult at all!  Let's break it down…  From the Sew Simple Shapes Cozy Christmas Templates  you will need B-20, B-6, B-9 and B-13.
I've pulled the template pieces with my background aqua snow from the Pixie Noel Fabric Collection by Tasha Noel.  For the wreath I am using one of Riley Blake Design basic gingham green fabrics!  The bow pieces are made from the vintage roses and red snow once again from the Pixie Noel Fabric Collection.
Trace the template pieces directly onto the Pellon stabilizer.
Stitch the desired fabric using the Pellon Stabilizer as a guide with right sides of fabric facing together.
Cut a small hole in the stabilizer and then turn your wreath inside out.  Follow each of these steps for each piece that you need to create the Cozy Christmas wreath.
Here are the pieces of my Cozy Christmas Wreath Block with my Aurifil Happy Color Thread now ready to be stitched together laid out on the 10 inch Lori Holt Design Board.  You can also see an upclose photograph of the NEW Lori Holt Cute Cutting Mats.
You can see that I have laid out all the pieces and pinned them together to get ready for the machine applique.  Remember you can always hand applique this block together but I am choosing to machine piece it so that I can get this done quick and then allow the family to use it lots during the short holiday season.  Maybe I'll even spill some hot cocoa on it while I'm using it as a lap quilt and can quickly spot clean it and wash it in the washing machine.  😉
Stitch the pieces of the Wreath Block together.  I started with the green Aurifil Happy Colors thread and the green gingham fabric.
Continue through appliqueing either by hand or machine each of the pieces of your block together.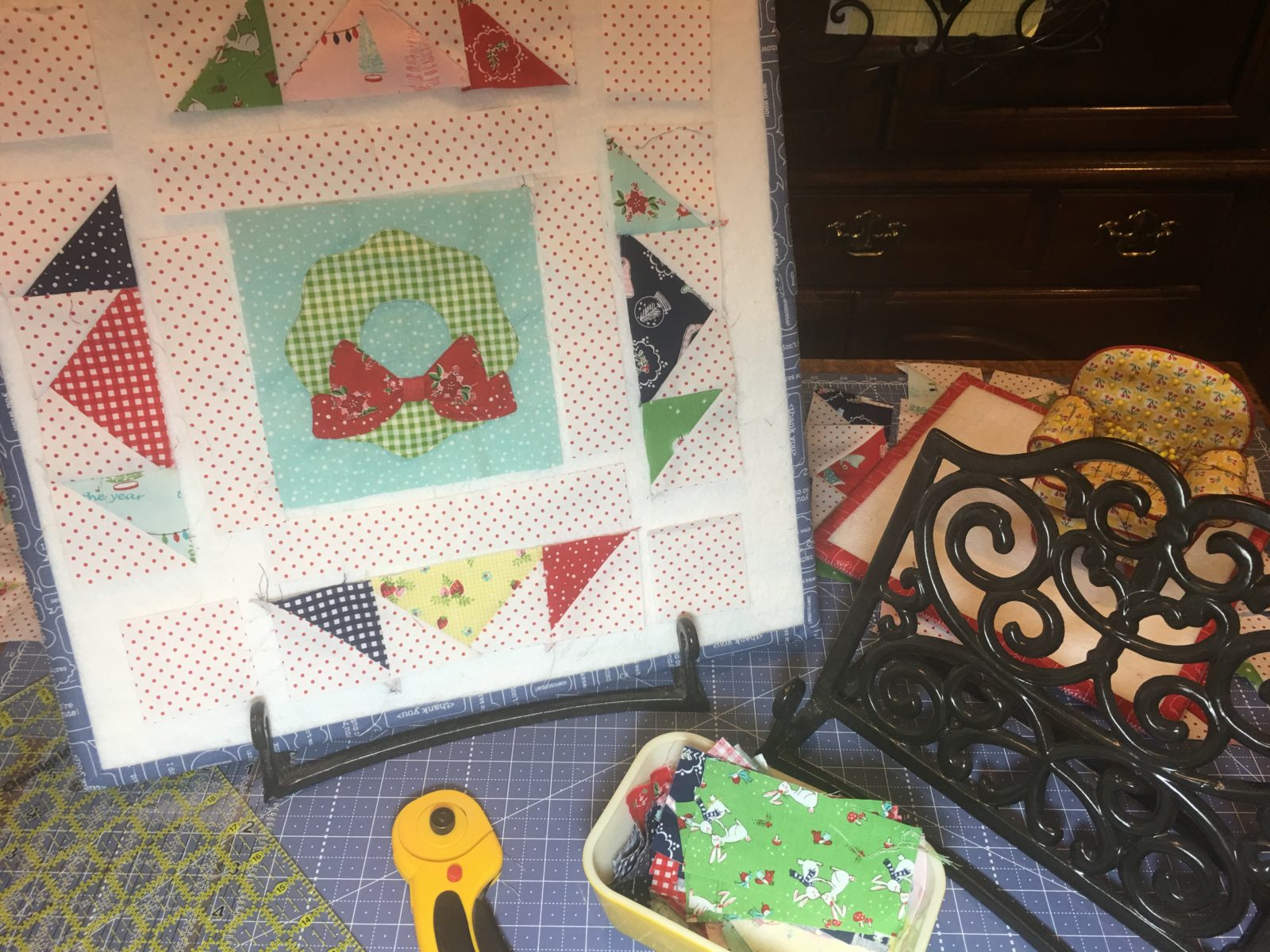 Here I am using the 18 inch Lori Holt Design Board to layout the sashing strips and pieces blocks that frame the Wreath Block.  This helps me balance out the colors of the fabric.  Remember that I am using the red and white swiss polka dot fabric by Riley Blake as my background in the block.  I use recipe book holders in my quilting studio to hold design boards or instructions to quilts.  I find them very handy.  I also find having lots of the Riley Blake Basic red, navy blue and green gingham around are handy for holiday seasonal sewing to add to project like I added into this block.  Now notice that I don't have the layout quite right on the design board with the outer blocks.  This is something to notice hopefully prior to stitching!!!!
Finally here is the final block with buttons taped to the block to get an idea of how it will look embellished with the Cute Little Lori Holt Buttons!  Don't you just LOVE the block displayed on white ric rac infront of my newly painted ironing boards!  I have a tutorial that will post tomorrow of how to find old ironing boards and then paint them to decorate your sewing studio with lots of vintage love.  I painted by ironing boards red, navy blue, light blue, pink and yellow!  I am just in love with them and every time I look at them they make me SMILE!
Please let me know if you have any questions about the block or quilting in general.  Stitches Quilting right now has the ABSOLUTE best prices to purchase the supplies needs for Cozy Christmas and other items that you need for the holiday season.  All items that are needed in the tutorial are linked so you can purchase the items from clicking the link.
Don't miss our Labor Day Week long sale at Stitches Quilting too!  All prices on inventory are marked on sale and a coupon code is not needed.  Free Shipping for orders over $100 in the United States.
BUT…… most importantly don't forget to enter the Stitches Quilting Cozy Christmas Giveaway that you can enter on the website, Stitches Quilting Instagram and Stitches Quilting Facebook Pages.  Here's a hint since you are ready the blog go to all three places for multiple entries for chances to win big!
Best Wishes for Lots of Happy Stitches,