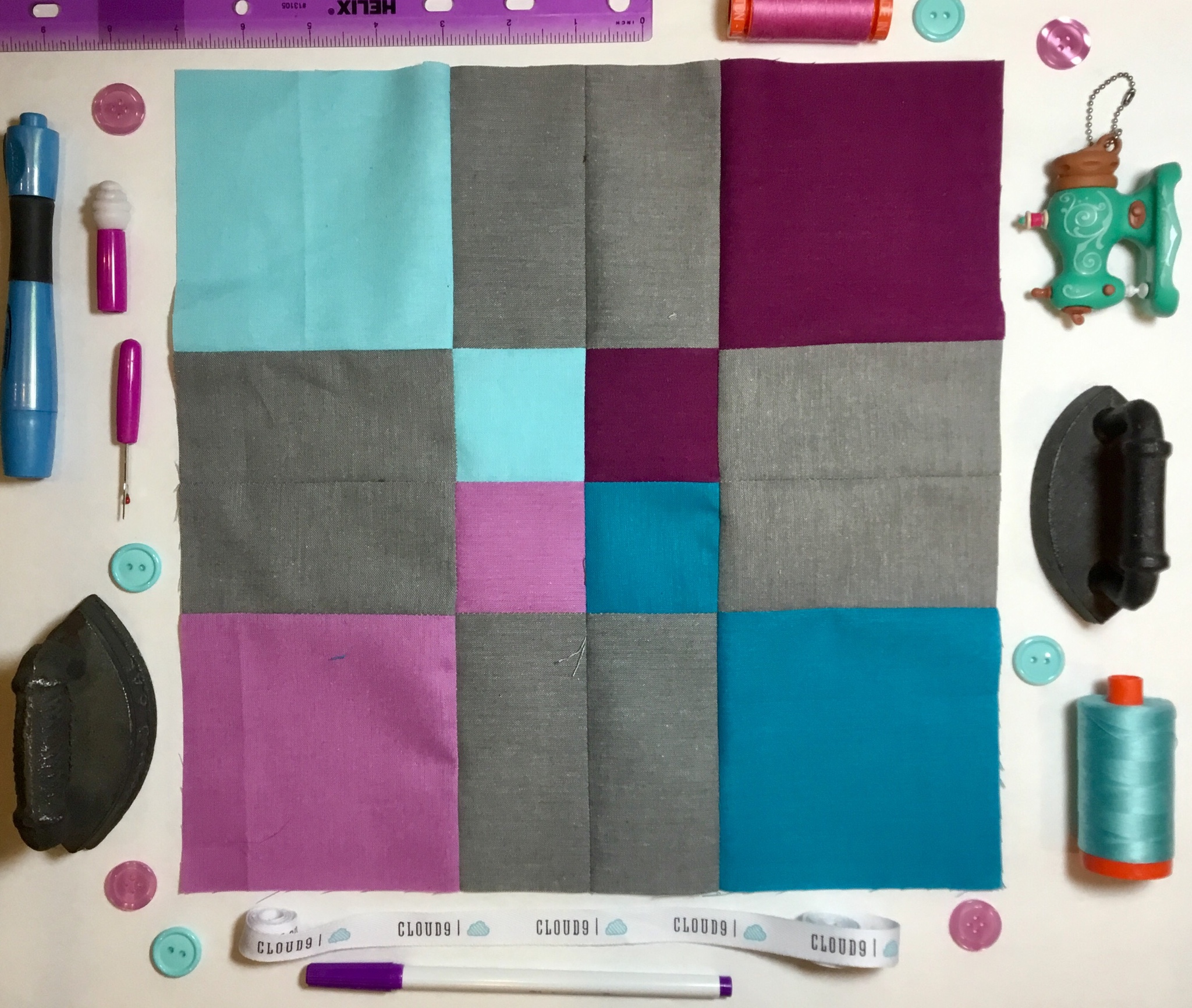 Four Square in a Nine Patch Modern Block
Doesn't Four Square bring back playground memories from elementary school?  The very first quilt I made 20 plus years ago was a nine patch.  I thought it would be fun to call this Four Square in a Nine Patch Modern Block for the 2016 Cloud9 Cirrus Solids New Block Blog Hop.  I received these fabrics from Cloud9 and they sat in my inbox as I
Daydreamed what I would create with these beautiful solids.  Every so often during my day, I loved reaching over and feeling the softness of these 100% Organic Cotton Solids.  YUM!  The colors of the Cloud9 Cirrus Solids are Amazon, Sky, Iris, Lilac and Shadow.
I've enjoyed the 100 days 100 blocks on social media from Tula Pink's Book of Modern Blocks.  I thought to myself, how I appreciate simple but yet modern those blocks are.  So I decided to go simple and modern with these gorgeous fabrics for a modern block design. I hope that a beginning quilter won't feel overwhelmed by the 4 square in a Nine Patch Modern Quilt block and a seasoned quilter may want to quickly bust this block out for a fast project.  The repeat is a stunning quilt but that is for a later post.
Let's get started!  I'm using the Shadow gray in this block almost as if it is a background solid.  Then I selected the two blue Amazon and Sky to offset each other diagonally with the Iris and Lilac to offset each other diagonally.
To create the 12.5 inch finished block, use the following instructions:
Cut one 2.5 inch square block from each of the 4 colored fabrics – Amazon, Sky, Iris and Lilac
Now it's time to cut one 5 inch square block from each of the 4 colored fabrics.  Don't let these pictures fool you the upper picture is the 2.5 inch size blocks cut and then the lower picture is the 5 inch square blocks cut from each colored fabric.
Cut 1 – 2.5 inch strip by 42 inches long of the Grey Shadow.  Then cut the 2.5 inch strip into 8 – 2.5 x 5 inch strips.
This image is the 8 Grey Shadow strips laid out like a flower with all the scraps of the fabric as a center.  I'm sorry… even the scraps were so pretty that I was too tempted to play and make a pretty flower to display the grey strips.
Let's start stitching!  
We are going to construct this block into 2 different sets of sections – "inner" and "outer".  This is a layout of the inner section using the 4 – 2.5 inch square block in the inside and the 2.5 by 5 inch Grey Shadow Rectangle Blocks.
Stitch the blocks together in two separate strips and then press them flat.
Press your inner block strips after stitching together.  Use the fork pins to match your seams and stitch the two inner block strips together.  Have you used fork pins before?  They are a lot of fun and get great matching seams.  If you want to purchase them from Stitches Quilting you can here.  They are also a great gift for your Quilty Sewing Friends for Christmas as an affordably priced item.
After stitching the two inner block strips together, remove the fork pins and press.  This is what everything should look like now.
 Here is the layout of the outer section blocks and how they will be stitched together.  Now we are laying 2 of the 2.5 x 5 inch rectangles horizontally to each other with the 5 inch squares placed on either side of the rectangles.  Be sure to arrange your blue hues diagonally and the purple hues diagonally consistent with the inner block strip that you just stitched.
After stitching the outer block rows together, press the outer block strips and then lay them out by the joined two inner block strips.  When laying out the outer blocks take note of the color pattern and confirm that you have the rows lined up to the color pattern that you desire.
Use fork pins to match your seams carefully and attch the two outer sections to the inner section as laid out above.  Press your block carefully to prepare the squaring up of your block to a 12.5 inch size. For convenience I am using a 12.5 inch square ruler to precisely square up my block.
Here is what your finished block will look like.  There will be a post later this week to show you how to arrange this block into a full quilt with quilt size deminsions, cutting instructions and yardage needed.  Be sure to subscribe to Stitches Quilting to get an email with the FREE Four Square in a Nine Block Modern Quilt Pattern.
I truly enjoyed working with these gorgeous Cloud9 Cirrus Solids.  I would recommend purchasing them.  I will place an order with Cloud9 to carry them in the store to purchase as yardage.  Use the yardage to make any of the blocks that you have seen on the Cloud9 Cirrus Solids New Block Blog Hop.
I want to thank our hosts and the 62 other bloggers that joined this blog hop and each created an unique modern block for you with a free pattern.  To visit the other quilt blogger pages you can click the links to follow them organized by the three separate days that we posted our blog posts.  You will be impressed with these brilliant women, quilt blocks and Cloud9 fabrics.
Monday, September 12th
Host: Yvonne @Quilting Jetgirl
Abigail @Cut & Alter
Janice @Color, Creating, and Quilting!
Lorinda @Laurel, Poppy, and Pine
Melva @Melva Loves Scraps
Renee @Quilts of a Feather
Kathryn @Upitis Quilts
Kim @Leland Ave Studios
Amanda @this mom quilts
Holly @Lighthouse Lane Designs
Irene @Patchwork and Pastry
Jennifer @Dizzy Quilter
Karen @Tu-Na Quilts, Travels, and Eats
Anne @Said With Love
Suzy @Adventurous Applique and Quilting
Sharla @Thistle Thicket Studio
Kathleen @Smiles From Kate
Amanda @Gypsy Moon Quilt Co.
Sarah @Sarah Goer Quilts
Chelsea @Patch the Giraffe
Jinger @Trials of a Newbie Quilter
Anja @Anja Quilts
Daisy @Ants to Sugar
Tuesday, September 13th
Host: Cheryl @Meadow Mist Designs
Miranda @I Have Purple Hair
Jennifer @The Inquiring Quilter
Sarah @123 Quilt
Leanne @Devoted Quilter
Jen @Patterns By Jen
Jennifer @RV Quilting
Amanda @Quiltologie
Sharon @Yellow Cat Quilt Designs
Jen @A Dream and A Stitch
Jen @Faith and Fabric
Carole @Carole Lyles Shaw
Stephanie @Quilt'n Party
Susan @Sevenoaks Street Quilts
Katrin @Now What Puppilalla
Amista @Hilltop Custom Designs
Nicole @Handwrought Quilts
Marla @Penny Lane Quilts
Silvia @A Stranger View
Sarah @Smiles Too Loudly
Carrie @the zen quilter
Mary @Quilting is in My Blood
Velda @GRANNYcanQUILT
Wednesday, September 14th
Host: Stephanie @Late Night Quilter
Geraldine @Living Water Quilter
Kathy @Kathys Kwilts and More
Allison @Woodberry Way
Paige @Quilted Blooms
Kitty @Night Quilter
Mary @Strip Quilts Pass it On
Seven @The Concerned Craft
Olusola @Alice Samuel's Quilt Co.
Ann @Brown Paws Quilting
Jodie @Persimmon + Pear
Vicki @Orchid Owl Quilts
Francine @Mochawildchild
Shelley @The Carpenter's Daughter who Quilts
Jayne @Twiggy and Opal
Shannon @Shannon Fraser Designs
Lisa @Sunlight In Winter Quilts
Jessica @Quilty Habit
Cassandra @The (not so) Dramatic Life
Deanna @Stitches Quilting
Denise @Craft Traditions
Now that's a phenomenal line up of bloggers!  Be sure to enter the giveaway to win prizes in celebration of this Cloud9 Cirrus Solds 100% Organic Cotton New Block Blog Hop.
Let me know if you have any questions about this pattern or suggestions to improve the pattern.  I can't wait to hear what you think about the Blog Hop!
Happy Stitches,
Now while you are gone I'll be here Happily Stitching Away and coming up with brilliant quilting and sewing projects to share with all of you.  Be sure to subscribe to Stitches Quilting and follow me on Instagram and Facebook.  I have the most fun there engaging with all of you inspried by the beautiful things you are doing.   XOXO