Giveaway Lori Holt Signed Quilt Books
Congratulations! The winner of the 3 Lori Holt autographed books is Christina Johnson! She shared this giveaway with Janet Goins and Janet will win one of Lori Holt's book of her choice!
Thank you everyone to participating in the giveaway!!!! To purchase
Quilty Fun on Sale $21.95 Regular $28.74
Great Granny Squared on Sale $11.38 Regular $13.38

Three signed Quilting Books by the author Lori Holt of Bee In My Bonnet. The books include Farm Girl Vintage, Quilty Fun and Great Granny Squared. Each of one of these books has Lori Holt's signature in it!!
Red Wire Basket and Happy Colors Fabric Bundle not part of the giveaway but using to make the picture look great!!! If u would like a Happy Colors 18, 24 or 36 Fat Quarter Bundle it is on sale for $29.85, $39.84 or $59.76 click here to purchase.
If you are a fan of Lori Holt, I just wrote a blog post explaining all of her favorite Quilty and Sewing Notions with pictures, descriptions and videos on my latest blog post. Click here to check out Lori Holts other new and recommended notions!
Can't wait to share these 3 autographed books with the lucky winner. I have more of Lori Holt's signed books to giveaway too … I just have to keep doing these fun giveaways!!! Giveaway ends Wednesday, June 29, 2016 at midnight mountain standard time.
To enter the giveaway, comment below what you favorite summer time activity is. You can also join in on the fun over at Instagram or Facebook.
The giveaway closes at midnight MST. I want everyone to be a winner though!!!! 👏
So I am offering these HAPPY COLORS 18, 24 or 36 fat quarter bundles at the following prices: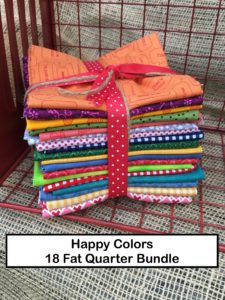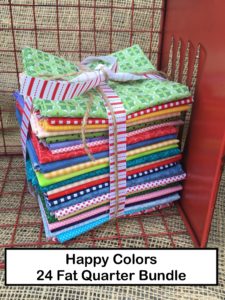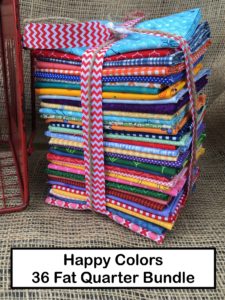 I have lots of bundles and won't sell out! . USPS Priority Flat Rate Shipping is $8.95. (I'm even giving a discount on the shipping because my cost is $11.95) Each bundle is unique but has some of Lori Holt's fat quarters in it along with bright HAPPY COLORS in small print of gingham, plaid, polka dots, floral, marble, geometric, vintage, etc. I custom make each bundle so if you have a request for extra red, orange, blue, etc… Or need more gingham, polka dot, etc… Just let me know. I've been studying these HAPPY COLORS for a while now and think I have a good feel for it! You will even get a free gift in your package because Happy Mail isn't Stitches Quilting Happy Mail if there isn't a free Quilty item included.
In celebration of the giveaway, most of Lori Holt's fabrics and notions are on sale so click here to view them all in the shop and I bet you can't find better prices anywhere.
Tomorrow I'll declare the winner of the books. If you randomly happen to win the books then of course there would be no cost for shipping with a purchase of HAPPY COLORS Fat Quarter Bundle.
If you live outside the US, let me know where you live and I will get you the shipping cost. This week I have shipped these Happy Colors to Germany, Hungary and Brazil. Pretty fun eh? Shipping seems to be about $30 as long as it is under 4 pounds.
👩❤️👩 Let's make lots of bright happy colored quilts to spread around the world with LOVE!
Lots of Quilty Love and Best Wishes for Happy Stitches!