Mae Flowers Lattice Spring Quilt
Spring showers bring Mae Flowers and this fabric collection has a bright hopeful spring feel!  These fabrics complement each other with all the flowers, patterns and color!
Mae Flowers Penny Rose Fabric collection seemed to say make me into a lattice quilt!
In fact, Stitches Quilting has the Mae Flower Lattice Spring Quilt handy and available in a quilt kit just for you! 
Mae Flowers Lattice Spring Quilt Kit starts with a 5 inch square!
Below you can get an idea of the pattern of how the quilt is layed out and pieced together.
The quilt looks light and airy with the sunshine streaming through it!  What would you use for the backing fabric?  AND how would you quilt it too?  We will do another blog post with tutorial of how to quilt this sweet quilt on your domestic sewing machine.
Isn't the Mae Flowers main print absolutely delightful?  Should we use this fabric as the backing of the quilt?  The main print also comes in a pink or green background.
Stitches Quilting has a free pattern for the Mae Flowers Lattice Quilt to download that accompanies the Mae Flowers Lattice Quilt kit available in stock.
What would you make with the Mae Flowers Fabric collection designed by Lindsey Wilkes of The Cottage Mama for Penny Rose Fabrics?
Can't wait to hear about your quilty daydreams and let us know if there is anything we can do to help your dreams come true!
About the Fabric Designer!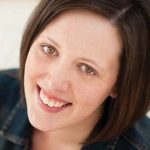 Lindsay Wilkes The Cottage Mama
Lindsay Wilkes is the owner/designer behind The Cottage Mama. The Cottage Mama is a lifestyle blog and children's sewing pattern company dedicated to inspiring handmade living and the domestic arts. Lindsay is a wife, mother of four, author, and stay-at-home mom turned handmade business owner.
The Cottage Mama was started in October 2009 as a way for Lindsay to share her love of all things handmade through her blog, including things such as sewing, recipes, decorating and crafts. Shortly thereafter she started her line of printed and PDF children's garment patterns under The Cottage Mama label that are sold online and in stores across the US. Her book, 'Sew Classic Clothes for Girls,' was released in 2013 (published by F & W Media). Lindsay has previously taught children's garment construction classes at the Martha Pullen School of Art Fashion. She has also appeared on the PBS shows 'Love of Quilting' and 'Sew it All TV,' has two full length sewing DVD's available through Martha Pullen Company and a free online sewing series called 'Lessons with Lindsay' sponsored by Baby Lock Sewing and Embroidery Machines.