Wouldn't you just love to sew comfortable clothing without being disappointed?  Indygo Essentials is the answer for trendy comfortable chic clothing patterns to successfully create and deck you out in style this summer!  They have 25 years of pattern making and you will not be disappointed.  You may have the perfect fabric tucked away in your stash and just need one or all of these patterns.
I had a chance to interview the lovely and creative leader Amy Barickman, founder & owner of Indygo Junction and AmyBarickman, LLC.  Amy has released over 1,000 patterns and published 80 books along with being a RJR Fabric Designer.  In the video below, Amy introduces her newest pattern line Indygo Essentials, comfortable clothing patterns.

Can't you already picture yourself in some of these fantastic flattering outfits?  Indygo Essentials patterns have a simple clean design using easy sewing techniques to find success in sewing garments that fit well and are wearable.  I'm eyeing these and already planning which fabrics to use.  The great thing about Indygo Essentials is that you can find the fabrics easily in quilt and sewing stores.
I'm feeling motivated and I would like to make the Shift Dress, Asymmetrical Top & Tunic along with the Swing Jacket for those chilly nights.  Then who can resist the Easy Top and Tunic that is flattering with the simple darts?  I'm planning on using Amy's Crossroads Denim Fabric Collection for the swing jacket.  Look at all the colors available, how could I possibly choose just one of them?  Which Crossroads denim fabric color do you think would look good?  What fabrics are you considering?  Do you already have some fabric in your stash that is available?
As a quilt store owner, I have been selling Indygo Junction patterns since 2002 and sewed with them before then because they are simply exceptional.  I have yet to see a project fail with one of their patterns.  Wouldn't it be great to create you own closet to look just like this clothing rack!  Ohhhh the possibilities……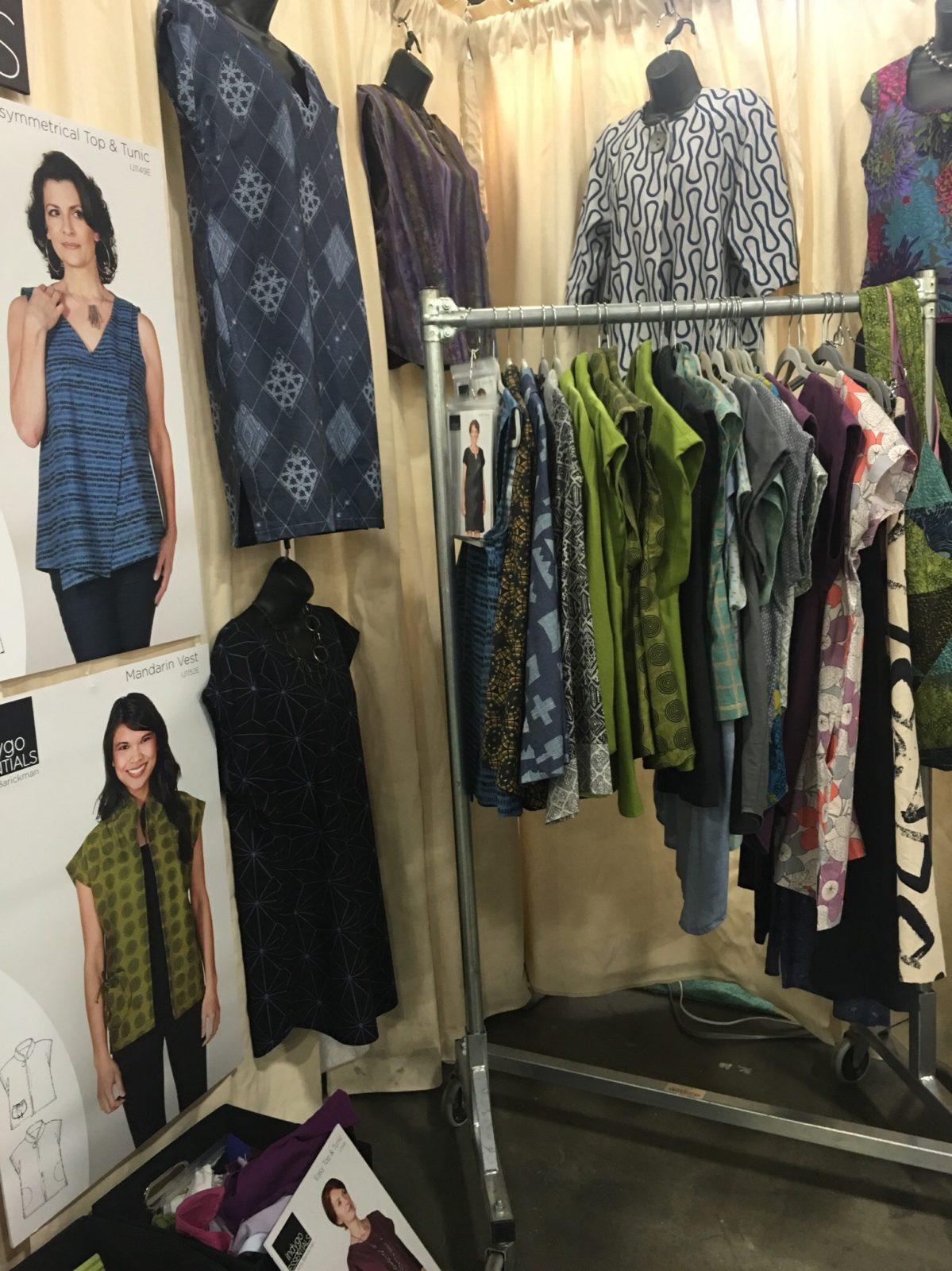 I wish I carried all of these patterns in stock for you at Stitches Quilting, but to purchase the patterns, go to 
I feel privileged to have learned from such a talented leader in this industry and hope you enjoyed her insight into sewing clothing with patterns.
You won't want to miss the other inspiring videos and articles with Amy Barickman posted this next week!  Our next video will be about Vintage Made Modern a collaboration that will inspire all makers out there!   Our last video and article will be chatting with Amy about what inspires her with needle and thread which includes her extensive collection of vintage content.  I don't know about you but I'm drooling….
Be sure to subscribe or follow on social media Stitches Quilting and Amy Barickman so you don't miss a single thing!
Anyone interested in a sew-along or blog hop featuring these patterns?
If you are new to sewing or just want a buddy then let's do it together in the NEW Stitches Quilting Online Neighborhood Facebook Group!  Amy Barickman has a Facebook Indygo Junction Pattern Group that you can join too!
Can't wait to hear from all of you! In the meantime, best wishes for happy stitches!